Porosity: A Goldilocs Tale
Mis à jour : févr. 25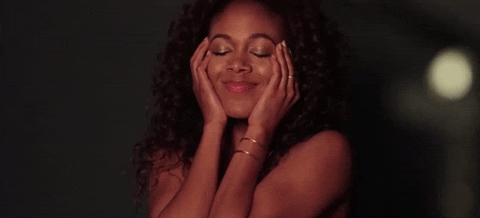 Recently, we posted the Porosity Test on our Facebook page and shared it with Naturalistas all over Facebook. We had such an overwhelming response but most importantly there were so many Queens who didn't know what the next steps were to treating their high or low porosity hair. So we are going to give you some simple yet effective tips on how to deal with the highs and lows of porosity. But first let's define porosity. It is the ability of your hair to absorb and retain moisture. It is broken down into three categories: low, normal and high. 
Low Porosity: The cuticles of the hair strands are tightly bound. When magnified, the scales overlap each other and lay flat. Hair is resistant to water penetration and is left dry, even despite your best efforts.  
      -This porosity level is best moisturized with the use of HEAT to lift it's cuticles and allow the moisture to penetrate. Deep conditioning with a shower cap and under a hooded dryer (or our Flaxseed Thermal Treatment Cap for mobility) for at least 30 minutes or allowing your body heat to warm things up naturally for an hour or so is actually a MUST for your hair. 
      -Always moisturize your hair once damp, using the LO method (leave-in conditioner followed by Crown Growth oil) Low porosity doesn't require a cream/custard. But the key here is to MASSAGE the product in. This constant friction will help to open the pores and allow for product to be absorbed.
      -Low porosity hair doesn't need a lot of protein as too much would leave the hair dry. 
      -In terms of of shampoo, you would need to look at using alkaline products (high pH) rather than low pH products (these close cuticles). 
Medium Porosity:  The hair's cuticles are not as tight and allow for great moisture balance. Hair with medium porosity is low maintenance, shiny and healthy. Hairstyles last longer. 
Lucky you *side eye*
High Porosity: The hair's cuticles are spread wide, sometimes gaping with holes. It allows too much moisture to penetrate it and releases moisture just as fast. Hair is usuallly very frizzy and tangled. 
        -Cold water and/or an ACV rinse will help close the cuticles. Your products should be on the thicker side.
        -This hair can sometimes be protein sensitive but needs added protein.
        -AVOID HEAT.
        -We recommend Crown Growth Oil-Almond Edition on a regular every other night or at least 3x per week regimen as a prepoo, mixed with conditioner or sealant. It is a master sealant and has incredible nutritional value add. 
        -Be sure to utilize the LOC method here as well or prepoo overnight at least once a week. I'm confident you'll find that our Crown Growth Oil Almond Edition will transform your hair.
If you'd like to get more help figuring out what your hair porosity is, click here to take a quiz: https://www.curlsbot.com/porosity/
We also have Hair Care Guides for Low Porosity and High Porosity Hair available for you in achieving maximum moisture retention and healthy hair growth!
Hope this helps! If you have any specific questions be sure to contact us and we will address your question as soon as possible. Remember to LIKE, COMMENT & SHARE! 
As always, peace and blessings....