Growth and manageability are the two things every Queen wants for their crown. Healthy hair will give you these things but it'll come at a pretty stiff price for the product junkie, consistency. There are a ton of amazing products out there and even more natural resources that will promote healthy hair but that doesn't mean you have to try every. last. one. You will literally NEVER get the results you are looking for if you buy and try every product with a fancy ad.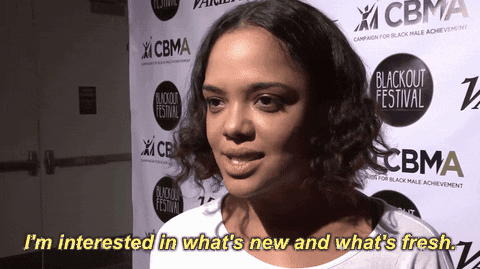 It can actually be fun playing in our hair, trying new things (it's the princess in us all) but sticking with a minimal product list and adhering as closely as possible to our recommended routine (The Bomb Hair Maintenance Routine) will yield you results! Queen's Magic Hair promotes simplicity because we believe that less is in fact MORE. For example, in the investment world there's this saying 'buy and hold' which refers to buying in an investment and holding it over a longer period to yield returns. The most successful investors follow this technique and I want to encourage you to do the same with your hair care products. If you thought of your products as investments, you wouldn't ditch them so quickly.
I'd like to offer a few tips on what to look for in your product list/regimen:
1. Added protein, if you see whey protein or any added protein in your product, dump it
Why? Because protein build up is the number reason coconut oil 'dries your hair out' it isn't actually the coconut oil, coconut oil retains protein but you have to have it first. Protein build up will cause dry and brittle hair
2. Avoid these ingredients:
-Alcohol Denat.
-Ammonium Lauryl Sulfate
-Fragrance
-Isopropyl Alcohol
-Mineral Oil
-Petroleum
-Sodium Lauryl Sulfate
3. Pick up habits like these:
-Do scalp massages with Queen's Magic Hair Growth Oil every other day
-Do the LOC method without the C (cream) apply leave-in conditioner of your choice after you rinse your conditioner and seal the moisture with a small amount of Queen's Magic Hair Growth Oil afterwards
-Drink more water
-Exercise
-Protective style
-Eat healthy
#hairtreatment #hotoiltreatment #lcomethod #prepoo #locmethod #hairoil #naturalhairoil #hairproducts #frizzyhair #hairmoisturizer #haircare #psoriasis #curlyhair #blackhaircare #blackhair #naturalhaircare #naturalhairmoisturizer #naturalhair #dryscalp #naturalhairproducts #hairgrowthoil #dryhair