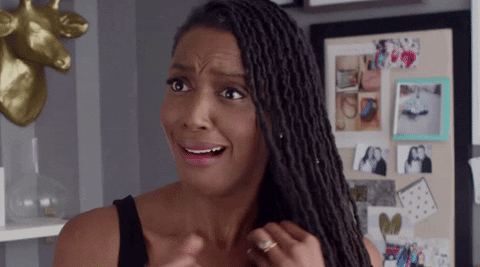 So let's address the elephant in the room. You're all excited because you keep hearing all of these great things about coconut oil and the benefits it has for hair so you get you some and notice it's actually drying your hair out. *moment of silence* *rolls eyes* *deep breath* So why exactly is this happening? Besides the fact that no one oil is going to work for everyone, let's dig a bit deeper. Coconut oil is an amazing oil for protein retention however, if your hair is dry and brittle due to unnoticed protein build up, repeated use of coconut oil will only make matters worse.  It'll cause your hair to be stiff and with no elasticity you're headed straight for Breakageville. 
How do you know you have protein build up?
Great question, so if your hair is dry and fragile even AFTER you've moisturized it (deep conditioning, hot oil treatments, loc method) then chances are you have protein build up. But there's a way to reverse it!  
•First check all of your products to be sure they do not have protein in them. 
•Secondly, focus on keeping your hair moisturized. I would recommend using aloe vera or a water based leave-in conditioner you like then sealing the moisture with Crown Growth Oil Almond Edition. You will notice the elasticity in your hair come back and moisture retention pick up. 
Queens, I want nothing more than to see beautiful 4C, 4A, 3B and every texture in between twistouts glistening in the sunlight and dancing with the moon!  So be sure to SHARE and COMMENT your thoughts. Until next time, peace and blessings!
#hairtreatment #lcomethod #locmethod #hotoiltreatment #prepoo #naturalhairoil #hairproducts #hairoil #frizzyhair #hairmoisturizer #haircare #psoriasis #curlyhair #blackhaircare #blackhair #naturalhaircare #naturalhairmoisturizer #naturalhair #dryscalp #naturalhairproducts #hairgrowthoil #dryhair #CrownGrowthoil #organichaircare #biracialhaircare #veganhairproducts #haircare #4Chair #moistureretention #proteintreatment #deepconditioning #proteinbuildup #tractionalopecia #thinninghair #hairmoisture #bestwaytogonatural #AfricanAmericanhair #coconutoil #coconutoilhair #haircoconutoil #naturalhaircare #thinhair #naturalhaircare #transitioning #balding #naturalhairproducts